What Are Some Ways That You Can Enhance Your Film Production CV? 
Making getting hired as simple as it can be is the motto you should keep in mind while writing your film resume.
Keep It Simple
The idea that you must employ a particular font or even a different color for the text in your resume to catch the attention of a hiring manager or anyone else who might be looking over your film production CV is an urban legend that persists. The answer is no. On resumes for positions in television and film production, you'll frequently see fonts like Calibri, Arial, and Helvetica. There's a good reason for this: these fonts are simple to read.
Make It Applicable
A CV for directing a film is very distinct from a CV for working as an assistant on a film set, which in turn differs significantly from an acting cv. It is conceivable that you may be searching for gigs in all three sectors of the industry; however, you most certainly cannot utilize the same film production resume for all 3 of these endeavors. Because of this, it is impossible to emphasize this point enough: every item of information on your resume needs to demonstrate to the individual in charge of employment that you possess the required level of expertise for the position.
Include Your Skills
Include any skill sets you possess that could make you a more valuable addition to the production staff in your film production resume. This is something that we've discussed previously. Having said that, do not overstate your capabilities. If you list a mastery for a distinct accent on your acting resume, you should be ready to demonstrate that accent on demand, even if you've never had to use it for a role that requires you to speak with a Romanian accent. If you are unable to execute a specific skill immediately, you should omit it from your resume.
Add Your Accolades
Resumes for the position of film production manager or film production coordinator are usually reserved for people who do exactly that: manage or coordinate a variety of project elements. As a consequence of this, creative accolades are not typically included. However, actors, directors, producers, and other creative types whose initiatives have been recognized by film festivals or other organizations that give awards should make sure to mention those accolades, as they speak to the talent that you possess and the input that you made on those initiatives.
If You Don't Have Any Prior Experience, Be Creative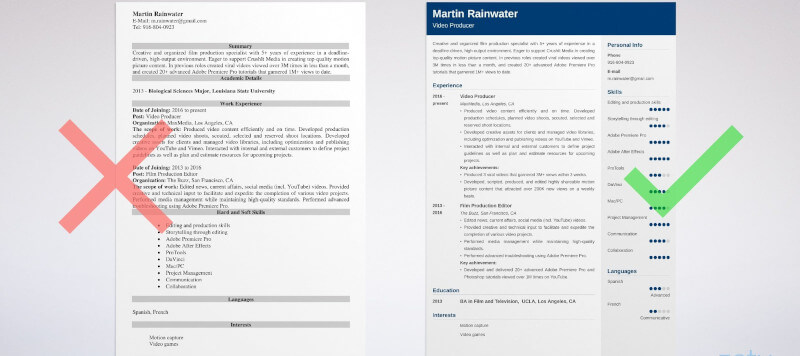 A lack of industry experience that can be included in a film production curriculum vitae is likely one of the most difficult obstacles for aspiring filmmakers to overcome. But if you don't have many credits or any credits at all, you need to think outside the metaphorical box. Include things like working on student films or taking part in competitions like the 48-hour film challenge if you've done either of those things. Have quite a bit of white space left on that document? Talk to the people you know who work in the industry. Even a few working days can make a difference in the appearance of a resume, and most individuals are pleased to have an additional PA on hand.
Prepare Your References in Advance
Do you recall those relationships? It is now the appropriate time to use them. In this business, word of mouth travels a long way, so you need to make sure that your references are reliable. You should get their authorization to use them as a reference before you need them, and when you're applying for a job, you should make sure to inform them that they could be contacted about you. Oh, and make sure you have their most recent contact details!
Note for applications to internships:
Everyone must begin their career at some point, and there is no shame in searching out possibilities for internships to gain valuable experience.
And in contrast to the majority of the resumes for film production jobs that we have gone over so far, a film production apprenticeship cv is the one form of resume for which the guidelines are a little laxer. The individual reviewing it is aware that the applicant almost certainly does not have any relevant experience. After all, this is the purpose of obtaining the apprenticeship in the first place!
Therefore, when attempting to put together a resume for a film production internship, it is acceptable to incorporate some of those transferable skills or even career experience that is from a different industry, provided that the knowledge and abilities in question apply to the opportunity that is currently available.
There Are Many Distinct Types of Film Resumes, Each With Its Own Set of Factors to Consider
The phrase "film production resume" is frequently employed as a catchall phrase, but there is no doubt: your resume must be customized to your specific aspiration job or job that you already have in the entertainment world.
The number of individuals who participate in the production of an advert, music video, or another type of task can range anywhere from the single figures to the thousands, and the majority of those people play a variety of roles in the production in question. Regrettably, given the scope of this article, we will not be able to go into detail regarding all of them.
If, on the other hand, your curiosity in the entertainment industry is more focused on the stages of creation or post-production, or some other aspect of production that we haven't covered in this article, we strongly suggest that you look online for a film production cv sample, as there are numerous of them available there. If you Google your title followed by the phrase "film production resume sample," numerous examples should come up for you to choose from.
Where Could You Come Across Various Resumes for Working in Film Production?
If you are just starting in your professional career, reviewing successful examples of other people's resumes can provide you with immensely valuable foresight into how to write your own. Inquire with a friend or acquaintance about their resume.
If you want to know if you're headed in the right direction, you should check in with a fellow actor, director, production coordinator, or PA. According to YLO Productions, an established production company in Cape Town, "Preparation is the key, so review your CV for problems, get other people to verify it, and make sure that it reads properly. " It is also a wonderful opportunity to get together with old friends and catch up while discussing the strengths and weaknesses of each individual's resume. Who knows, maybe they're about to begin a job and could use some extra help. In addition to that, they may be able to supply extra samples obtained from their contacts.
To Summarise
Maintaining an up-to-date resume is essential, regardless of how many contacts you have or how few you have. You can never be sure when you're going to require it. Submit it to LinkedIn or Production Hub; save it to your computer; hold a printed version on your desk.